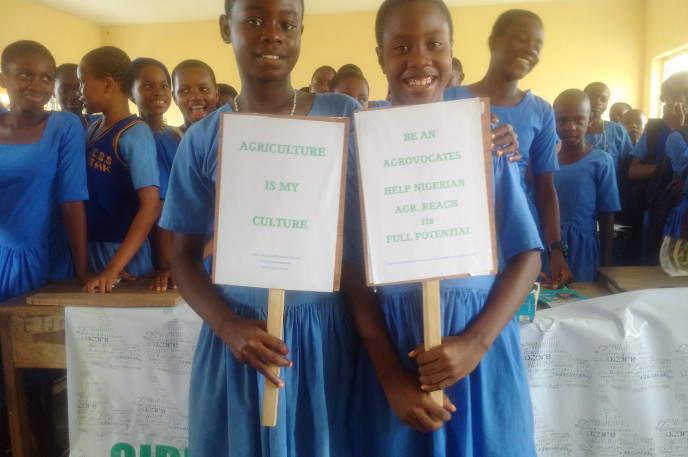 Join our "Clean Up the World" campaign!
Get the details...
---
PEAS Foundation's Mission and Vision are supported by its variety of Programs:
A BREAK FROM THE NORM
...Breaking boundaries
LEADERSHIP TRAINING FOR YOUNG PEOPLE ("CATCH THEM YOUNG")
Offers leadership workshops, seminars and conferences to develop and train students/young people focusing on developing the next generation of environmental leaders.
GIRLS FARMERS CLUB (GFC)
Girls Farmers Club is a young organisation aimed at attracting the girls in all Secondary Schools across the State to appreciate and choose agriculture as a career...Read more >>
STUDENT CONNECT
Connects and mobilizes students, clubs, and volunteers using social media, blogs.
PROFESSIONAL TOUCH
Establishes partnerships with professionals, universities foundation to create blogs deserved to improve environmental awareness and share innovative energy solutions. Train young people on agriculture, energy and climate energy.
FIELD TRIPS
Supports and funds trips to forests, parks for exploration and learning.
CAMPUS CLUBS
Encourages students to join environmental clubs, young farmers club and participate in environmental projects and gain exposure to both health and environmental issues.
Benefits of organizational programs to students, environment and Community
Learning about green technology
Expanding their eco-consciousness
Opportunities to engage politicians, leaders, peers and educators on environmental projects
Participating in a grassroots movement to sustain the community and planet
Networking with other schools, clubs from varying socio-economic backgrounds and cultures
Diversify opportunities for women in income-generating agro activities
Build an alliance for sustainability
Forges links between environmental and feminist politics and organizes girls and women's networks to promote equality of opportunity in the environmental sector
Benefits of Environment
PEAS Foundation will educate youths, students in environmental sustainability and give them access to the natural world around them to create a lasting connection with the health of the planet and the ecosystem.
Community Service
Arrange for school/community clean-ups of beaches/wetlands, parks etc.
Create forum for professionals to speak with the people
Promote agriculture amongst women and girls