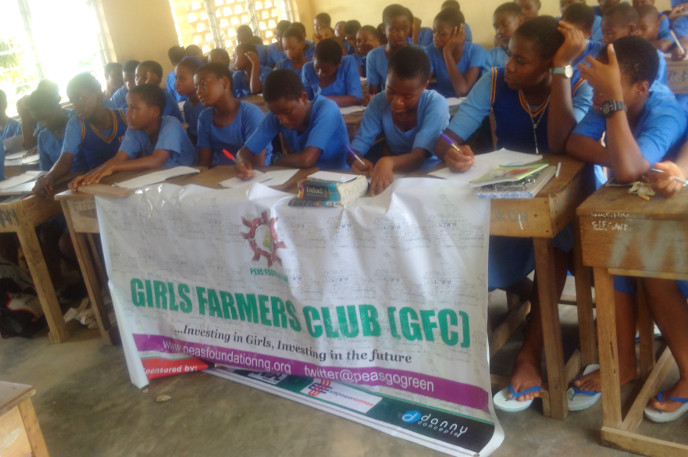 Girls Farmers Club is a young organisation aimed at attracting the girls in all Secondary Schools across the State to appreciate and choose agriculture as a career. GFC assists young farmers with information, education and support to ensure farming remains a success in our state. The age ranges of members are aged 10 to 18 in the school clubs. Clubs usually meet twice a month and are organised and run by the GFC members themselves.
The mission of the club is to increase appreciation and understanding of agriculture, nutrition, and the food systems by getting students involved in agriculture.
The aims and objectives of Girls Farmers' Club as a voluntary organization include and not limited to the following:
To train up students on how to manage farms
To acquaint students with different techniques of farming
To make/encourage students develop interest in agriculture
To make information available on agricultural breakthrough to improve students' knowledge
Provide an opportunity for students to develop communication and presentation skills
Develop problem-solving skills
GFC DEVELOPMENT PROGRAM
The GFC Development program works in conjunction with PEAS Foundation, Semek Farms and Rundi Farms to deliver agriculture education and training to young girls, ages 10-18 years. The program has over 2000 youth members and over 200 volunteer leaders across the state who participates in hands-on education, leadership and career training opportunities.
Leadership
These programs build young girls through leadership training, including:
Communications
Leadership initiatives
Community citizenship
Personal development
EDUCATION
PEAS Foundation staff, guides future leaders in the agriculture industry by providing expertise and training in organizational management, agriculture and community leadership education.
Agriculture skills and knowledge education includes:
Agriculture awareness
Career education
Farm safety
Food safety and quality
Environmental stewardship, animal husbandry and animal welfare
Career Training
Providing young girls with the opportunity to learn about and experience on-farm production agriculture, they develop resources and programming knowledge in jobs that are closely connected to the agriculture sector.
Agriculture Literacy Week
Volunteers throughout the state will go into classrooms to read a book with an agricultural theme and talk to students about agriculture. Through participation in this part of agricultural education, students develop leadership and personal skills that will help them succeed in the future. As part of this effort, Agriculture in the Classroom promotes inquiry-based learning through the development of programs, activities, and curriculum resources, distributing these improved learning opportunities for use within the school system. These may include public speaking events, agriculture sales and marketing, agricultural issues, food science, meat science, livestock judging, and proficiency contests. Agriculture will come alive in schools classrooms as students participate in activities to learn about, connect to and understand this important industry.
WOMEN
AGRO CONNECT MENTORS
The program will bring together diverse and experienced women entrepreneurs or female business owners to mentor women entrepreneurs from underserved communities. The mentors, who will provide tailored advice through in-person meetings through, online chats, and blog posts, etc. The Agro connect mentors program is a wonderful opportunity for aspiring and experienced women entrepreneurs to strengthen their business models by exchanging ideas and resources. Through mentor-mentee relationships, women business owners will learn from hands-on experience and become well-equipped for success. Agro women are key economic actors. To address these key challenges, Agro Connect mentors is introducing a range of tailored business services, including outer-borough networking events and free business courses on topics like animal husbandry, vegetable farming, snail, poultry, credit building, fisheries , funding, and leadership. The Agro Connect mentors program responds to a need for mentorship and business advising, especially with women. Agro connect mentors is an opportunity to give back to others.